Five men have received certificates of merit for their bravery in rescuing 36 people in the deadly ferry accident in the central province of Quang Binh on January 25.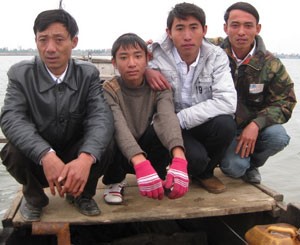 Luyen, Phong, Thang and Hoan (from L) (Photo: Tuoi Tre newspaper)
The Quang Trach District People's Committee held a ceremony on January 31 to fete Mai Xuan Luyen, his son Mai Xuan Phong, nephews Tran Quoc Thang and Tran Quoc Hoan, and Hoang Van Ut.
Each also received VND1,000,000.
The ill-fated ferry, with 78 passengers on board, was going from Quang Hai Commune to Dien Market on the opposite bank of the Gianh River.
The vessel, captained by Nguyen Xuan Quy, managed to go only 200 meters before sinking.
Luyen, Phong, Thang, and Hoan had been on another boat transporting logs when they heard the victims' cries for help.
He immediately threw the logs into the water for people to cling to and also jumped in to rescue others.
A team from the National Committee of Traffic Safety and Transport Ministry led by the Deputy Minister of Transport Nguyen Manh Hung called on victims' families to offer condolences and praised the five men for their brave act.
Mr. Hung also presented each of them VND3,000,000 and gifts.
Forty two people died in the accident.