A ferry-boat sank in the Gianh River at Quang Hai Commune, Quang Binh District, on January 25. It took the lives of 42 victims. Most were women and children.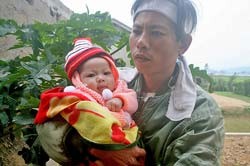 The man whose wife died in the wreck brings his baby to a woman to breast feed
A sorrowful and mourning atmosphere has been felt among inhabitants of the commune since the disaster.

Cao Xuan Thanh, whose wife, daughter and grandson died in the incident has taken the disaster extremely badly.
After the funeral services, Thanh goes to the river bank every day and sits all day to look at the swift running current of the water.

Thanh said that his wife took the boat to Dien market in Quang Thanh Commune to shop for some food for the New Year festival. She also promised to buy some new clothes for their son who is a twelfth grader in high school as a reward for his excellent studies.

Thanh sobbed, "My wife promised to my son that she would get home but she couldn't. Our daughter went with her and both were killed in the wreck. Our daughter was seven months pregnant."

Le Xuan Tham, whose wife Cao Thi Oanh was a passenger in the fatal ferry-boat, said, "After earning some money from the sale of our flock of ducks, my wife decided to go Dien market to buy some food and new clothes for the kids. In the afternoon, while the eager children were waiting for their mother to get back in excitement, the villagers suddenly rushed in, bringing their mother's corpse. The kids were all scared and burst into crying."

Party Committee Secretary of Quang Hai Commune Tran Manh Ho said, "The wreck has taken the lives of 17 young women. After the incident, 39 children under 16 years old in the village become motherless kids, among them, ten are babies."

Cao Thi Hien, died in the wreck when she was only 26 years old. Her husband had passed away a few months ago. Their one-year old son Tran Cao Kien now becomes an orphan and has been left to the care of Hien's neighbors.

As a mother of a 12 month old baby, Pham Thi Thuy, before leaving the house for the market, told her husband, Cao Xuan Thi, that she would get home as soon as possible to breastfeed the baby and then prepare a small feast to make offerings to the family's ancestor. Thuy, however, never returned and her husband now has little choice but to ask women who have babies in the village to breast feed his child.

To help the victims' families get through the difficult period, more than VND 1.2 billion ($70,000) has been raised from agencies, organizations, businesses and individuals.
Related Articles: