Vietnam's Ministry of Industry and Trade on Wednesday said only around one twentieth of flawed cars from Toyota Vietnam have been sent in for checking after an engineer exposed the technical errors in March.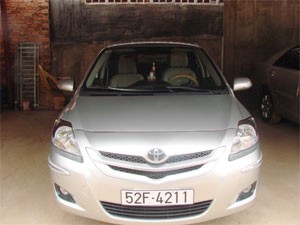 View of a Toyota Vios. Several technical flaws at cars produced by Toyota Vietnam have been exposed (Photo:Phan Hien)
More than 4,000 cars produced by Toyota Vietnam (TVM) have been brought to a free repairing campaign by the firm from mid April to the end of May, the ministry's Competition Administration Department said in a statement.
In March, TMV's engineer Le Van Tach exposed three flaws in more than 73,240 TMV cars and lodged a complaint with the Vietnam Register. The discovery led to the recall of more than 65,000 faulty cars and forced the largest carmaker in Vietnam to convey a public apology to its customers on April 15.
The number of cars fixed by the program is "too low," the department said.
On April 15, Toyota Vietnam announced that nearly 66,000 units of both Fortuner and Innova models would need to be recalled for repair. It said all units of the two models, produced before December 23, 2010, would be checked and repaired for free.
But many customers are unaware of this repairing campaign as they have not received any communication about it, the Saigon Tiep Thi newspaper reported on May 20, adding that Toyota only sent the information to relevant authorities and media.
Concerning the case, lawyers and consumer advocates said Toyota customers could file lawsuits against the carmaker for failing to take immediate action on the incident.
Toyota admitted, on April 1, that around 8,830 Innova model cars suffered from technical flaws, but declined to issue a recall until two weeks later.
Also on Wednesday, Tach, the 35-year-old engineer exposing the flaws to the public, filed a complaint about a suspension notice he received on June 12, saying that the suspension to his job is improper and unnecessary.
Tach has been suspended for three months pending investigations into his bad influence on his colleagues' work and prestige, TMV confirmed at a Monday press conference.
Earlier on May 31, Tach had lodged a petition to Akito Tachibana, TMV general director, saying that he was repeatedly insulted and threatened by seven officers in the company since he exposed three errors of TMV cars to the public, and required an apology and compensation for the acts, Thanh Nien News reported.
"The suspension is based on Tach's accusations and behavior towards several officers in the company and it has nothing to do with his exposure," TMV general director Akito Tachinaba told the press.
Tach said he has recently discovered four further errors in Toyota cars but the company has deliberately avoided admitting the errors.