Only a very small number of projects in HCM City has been put forward for science-based criticism, according to a top scientist.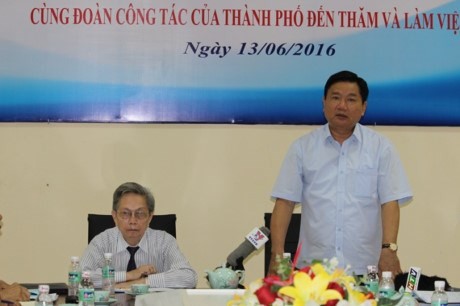 Secretary of the city People's Party Committee speaks at the event (Photo: baomoi.com)
According to Prof. Dr. Nguyen Ngoc Giao, President of the Union of the HCM City Science and Technology Associations, said the number of projects getting consultation and criticism from scientists is too small in regard to the number of projects being implemented in the city.
Some big projects belonging to the city's overall planning have yet to have the participation of the union, Giao said, adding that the criticism of projects should be institutionalised with specific criteria such as scale, capital and affected population.
In order to make criticism effective, scientists said the union has to get involved in a project from the beginning, while the city needs to have systematic and science-based instructions and a financial reform mechanism for scientific research activities.
Dinh La Thang, Secretary of the city People's Party Committee, said the city has real demand for social consultation, criticism and appraisal as the city heads towards a higher level of development.
Thang appreciated the union's contribution to the city's development and stressed that the city would continue creating favourable conditions for scientists to make their contributions.