Prime Minister Nguyen Tan Dung has asked the Central Steering Committee for Anti-Corruption to continue with its efforts to fight graft and soon bring unresolved cases to trial.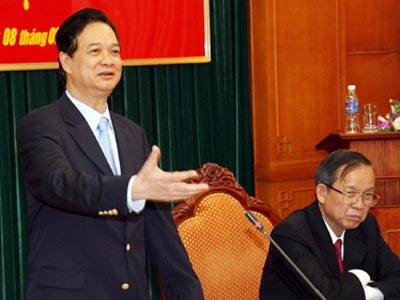 PM Nguyen Tan Dung (R) at a meeting of the Central Steering Committee for Anti-Corruption in Ha Noi on Feb. 8. He called on all agencies concerned to continue the fight against corruption. (Photo: chinhphu.vn)
Mr. Dung, who is the head of the committee, was presiding over a meeting held in Hanoi on February 8 to review its performance last year and set forth tasks for 2009.
Last year law enforcement agencies took up 280 corruption cases involving 622 suspected offenders, respectively down 44 percent and 35 percent from 2007.
Among the serious cases were the Do Son land scam, the textile quota scandal involving Mai Van Dau, a former deputy trade minister, and the notorious "PMU 18" scandal.
Last year also saw 70 cases in which local leaders were punished for their irresponsibility in fighting corruption.
Official agencies carried out around 11,500 inspections last year and found wrongdoings involving VND7 trillion (US$411 million) and $300,000 and over 12,000 hectares of land.
They recommended punishment for 237 agencies and 1,751 individuals and handed 66 cases over to criminal investigation agencies.
Speaking at the meeting, Mr. Dung said the performance in the battle against corruption last year showed the Government and society's determination to eradicate this evil.
The sincere efforts by official agencies contributed to uncovering and preventing corruption in some fields, he said.
He called on the committee to continue its fight against graft by improving the laws and strengthening oversight of State-owned enterprises in the fields of land, tax, and investment.
Coordination between agencies should be improved to make the process of dealing with corruption cases more efficient.
He also told the committee to provide accurate information about graft cases to the people.
The major corruption cases that remain unresolved must be wrapped up in the first quarter, he ordered.
The committee said the electricity meter scandal in HCM City would come to trial before February 15 and authorities are preparing for a fresh trial in the PMU 18 case after expanding their investigation.