In the past few years, the Central Highlands province of Dak Lak's authorities have continuously uncovered several dishonest coffee makers who produced counterfeit ground coffee from corn, soy beans, aromatic spices, and chemicals.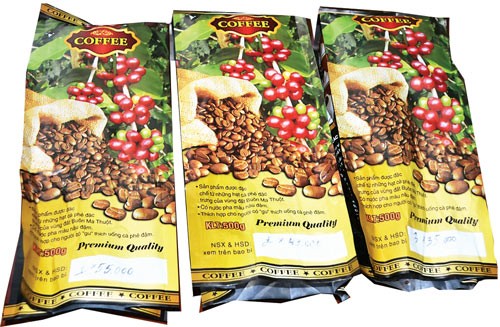 These coffee products are sold for only VND35,000, VND43,000 and VND55,000 a kilogram respectively (Photo: SGGP)
Some other "nicer" makers would add 10 percent of coffee beans into the aforesaid mixture. Ground coffee was produced in filthy cranky houses and sold at extremely cheap price of VND30,000 - VND60,000 per kilogram while that with 10 percent of coffee was sold at VND100,000 – VND150,000 per kilogram. Because of its cheap price, this kind of coffee is favored by many coffee shops inside and outside the province. This action of dishonest coffee makers not only causes bad effects to consumers' health but also to the brand name of Buon Ma Thuot coffee.
Making coffee is supervised by many departments, including industry and trade, health, and environment police. However, in reality, dishonest coffee makers still produce fake coffee. According to a market surveillance official, the tool used for making ground coffee of these dishonest makers is so simple that it can be easily placed on a motorbike to go everywhere to make coffee. Therefore, it is very difficult for authorities to uncover the vilolations.
Trinh Minh Duc, chairman of Buon Ma Thuot Coffee Association, said that in order to fight against fake coffee, the association will found an association of coffee makers this year to tighten control on ground coffee products. Its members will discuss to come to an agreement on internal control standards and geographical indication of Buon Ma Thuot coffee will be printed on products of members who meet the standards.
Nevertheless, this solution seems unfeasible as most fake coffee makers did not register for business. According to Nguyen Xuan Loi, director of An Thai Investment and Development Company, the fight against fake coffee needs consumers' assistance.
'Pure coffee has puce color and a distinct aroma. It is not too bitter or too dense. While fake coffee is very dense and has black color and strong bitter taste,' he said. When the consumers are able to distinguish fake coffee and decline to use it, dishonest coffee makers themselves will be ruined, Mr. Loi added.
In addition, authorities should also slap strict penalty on dishonest coffee makers or even commence criminal proceedings against them.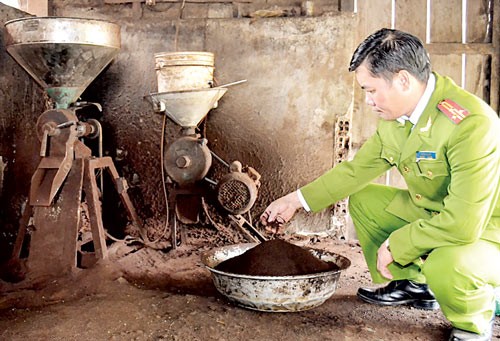 Dak Lak Police raid a fake coffee processing business in Buon Ma Thuot City (Photo: SGGP)