The Ministry of Agriculture and Rural Development (MARD) is at loggerheads with the Ministry of Finance (MoF) which does not want import tariffs on dairy products raised.
Following protests against a possible hike in the tariffs, the MoF decided on February 19 to lave them unchanged, deputy minister Do Hoang Anh Tuan said.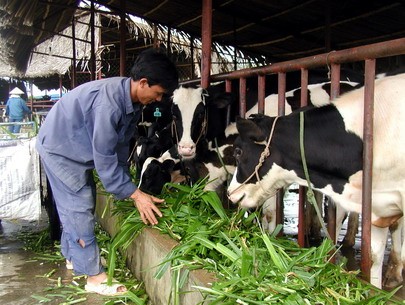 The Government is in a dilemma over whether to hike import taxes on dairy products. Cheap imports have badly hurt dairy farmers like this one but the finance ministry is warning about rising prices (Photo: TTO)
He told the media that the Government should consider carefully before raising any tax to avoid a price rise.
It should only raise the tax on fresh milk and some other products widely available in the country and not on milk powder, he said. The MoF has proposed an increase of 5 to15 percent in tariffs on fresh dairy products.
MARD has disagreed and asked for a hike in import taxes on all dairy products, saying dairy farmers are facing severe difficulties.
Hoang Kim Giao, head of its Livestock Breeding Department, said it is unreasonable to raise the tax on just fresh dairy products.
He explained that producers mostly use imported milk powder to make dairy products and if the tax is not hiked, it would leave farmers raising dairy cows in a fix.
Following a decline of US$2,000 - 2,600 a ton in global milk powder prices, importers and producers would still earn profits, he added.
The general director of Hanoimilk Company, the biggest milk buyer in the north, Tran Dang Tuan, concurred with Mr. Giao.

Related article;
Public worries rise over higher dairy prices