The Ministry of Finance has told the developer of the Rach Mieu Bridge in the Mekong Delta to delay collection of toll from users until April 2 as part of the Government's efforts to put more money in people's pockets.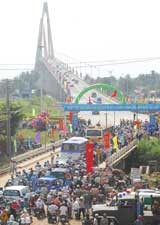 Rach Mieu Bridge opens to traffic on January 19, 2009 
The Rach Mieu Bridge Build Operate Transfer Company was set to begin collecting the fee a month earlier.
The operator of the 2.8-kilometer bridge, which connects Tien Giang and Ben Tre Provinces, has announced toll rates for eight kinds of vehicles, depending on their weight and size.
Rach Mieu is the country's first Vietnamese-designed and -built cable-stayed bridge and cost VND1.4 trillion (US$84 million) to build. It was opened to traffic in January.