The Ministry of Finance has established three inspectorates to inspect freight rates and fares in five provinces and cities including Hanoi, Da Nang, Ho Chi Minh City, Binh Duong, and Dong Nai from today January 28.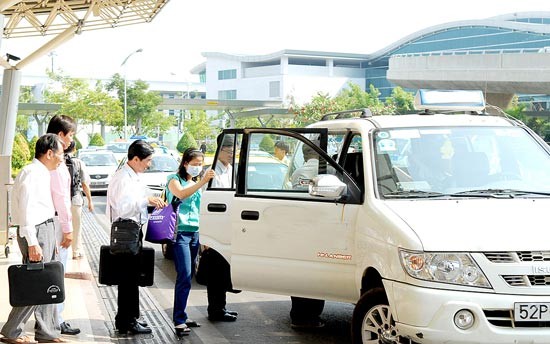 Passenger get in a taxi cab at Tan Son Nhat International Airport, HCMC  (Illustrative photo: SGGP)
Deputy inspector chief of the ministry Dang Ngoc Tuyen said that duration time of inspection in every transport firm would not exceed five days. Inspection results would be reported to the Ministry of Finance and the Ministry of Transport. Any company found breaking the Price Law will be strictly handled.
The move aims to rectify transport fees after sharp fall in petrol prices.
The first companies to be inspected will be coach and taxi companies who have not reduced their fares or reduced but the new fares are unsuitable with petrol price reduction level.
Minister of Finance Dinh Tien Dung has sent a dispatch to province and city leaders asking them to coordinate with the Ministries of Finance, and Transport and closely instruct authorized agencies in their localities to tighten management over transport fees.
According to Mr. Dung since the second half last year the Government's petrol price management has been positively changed to suit the world's dropping oil prices.
Prices of most petrol products have drastically reduced now compared to last July, gasoline price dropped as much as 39 percent. However transport fees especially fares has been lowered inconsiderably raising public objection.
Director of My Dinh Bus Station, where has the largest number of transport firms in Hanoi, yesterday said that only 95 out of 209 bus operators at the station have announced fare cut. The remaining 114 ones have taken no action.
Average reduction rate ranges from 5-12 percent and the highest cut rate is 18 percent.
The station has made a name list of businesses that have not reduced the fares, and post it on bulletin boards or announce it on the radio at the station. The station also proposed them to adjust the fares to suit tumbling petrol prices.
The same day large taxi firms such as Mai Linh, Vinasun and Sai Gon Hoang Long announced fare reduction. Mai Linh will lower the fares by VND300-1,000 a kilometer from the end of this month. Vinasun and Hoang Long will cut it by VND500 from February.