A Honda Civic sedan inside a house in Nha Trang City, Khanh Hoa Province on Vietnam's central coast caught fire Saturday and was destroyed.
The fire broke out at 7:15 pm at No. 211, Hai Thang Tu Street in Van Thang Ward. The house and car owner is Nguyen Trong Hoang, 42. Things in the ground floor where he placed the car were also destroyed.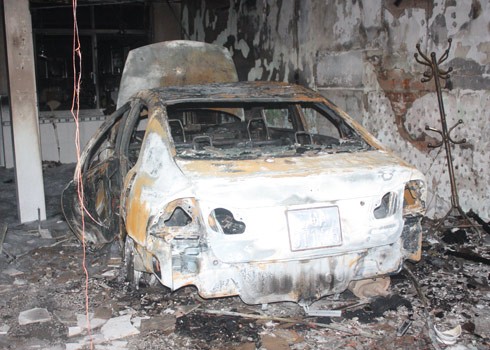 The Honda Civic car seen after the fire was put out (Photo: VNExpress)
He said he put the car on the ground floor at 2:30 pm Saturday. At 7pm, from the upper floor, he smelled some smoke. He ran down and saw smoke coming out from the car and the inside light was on. He rushed out of his house to find a nipper to cut the battery line, but flames had broken out by the time he came back.
Provincial fire fighters came up immediately to put out the fire, protecting the four-level house and the neighbors from flames.
In related news, a running bus caught fire in My Tho City, the Mekong delta province of Tien Giang, on Saturday but no casualties were reported because it was carrying no passengers.
Bus driver Nguyen Hong Anh said he just got fuel refilled and drove the bus for a while then he saw smoke coming out from the engine. He stopped the bus and local people helped him to put out the fire.