A fierce fire broke out in a house cum jewellery shop on April 27 in Co Do District of Can Tho City killing an entire family of four; a couple who were owners of the Huynh Van gold shop in Trung An Market, and their two children.
Phan Ngo Huynh, 41, his wife Nguyen Thi Tuyet Van, 37, their daughter Phan Kim Ngan, 12, and son Phan Thanh Dat, 2, were burnt to death in the fire early Friday morning.
Initial investigation showed that the fire might have been caused by a short circuit and the victims did not have enough time to escape, police said.
The fire consumed the entire gold shop, including two motorbikes, but did not spread to houses nearby thanks to a heavy rainfall at that time, said local people.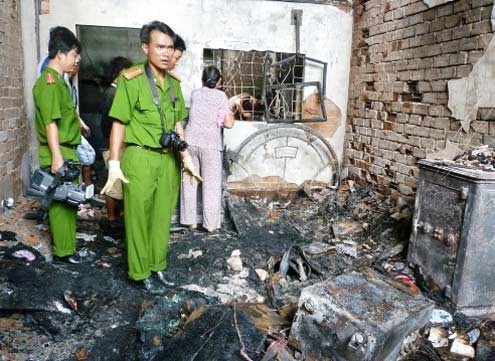 At the scene of the fire ( photo Nguoi Lao Dong)
They added that they saw the fire but could not enter the shop to rescue the victims because the house had two levels of doors that were carefully locked from the inside. They failed to break the wall, as the house was solidly built.
On hearing news of the fire, the fire brigade in Thot Not District in Can Tho City arrived with 15 fire extinguishers and spent almost one hour trying to put out the fire from outside. Firefighters then forced open the doors, however, by that time all the four victims had been burnt to death.
Some relatives of the family have come to the scene to receive the four bodies and take them to An Giang Province for burial.
They also worked with local authorities to hand over the burnt shop to police for investigation.
The police are investigating the cause of the fire as Huynh Van was one of the leading gold shops in the Commune and had wide financial links with other businesses.