The first six-storey apartment building has been handed over to low-income earners in Ha Noi. Each apartment costs around VND71 million to VND115 million.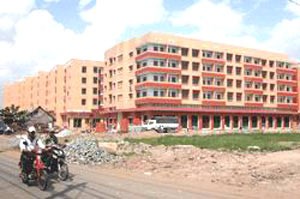 An apartment building area for low-income earners in Ha Noi
The first floor of the block is reserved for public purposes. While the remaining floors, including 90 households with around 36 square meter each, are used for residence.
After paying a deposit of 30% of the cost, buyers can have a 20-year deferred loan, which has monthly payments on preferential interest of 0.4%.
If clients make a full payment upfront, they will be offered a 20% discount of the total price and receive the title certificate of ownership on the spot.
As many as 58 out of 79 low-income families bought the apartments in the first stage following the approval by the Ha Noi People's Committee, and have paid the 30% deposit.
The signing and hand-over ceremony was held on March 22, 2006.