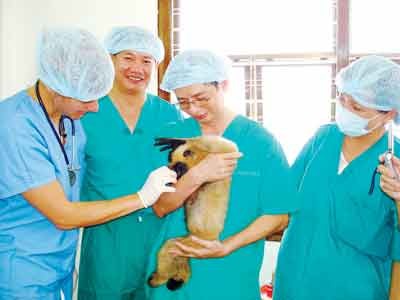 Eye doctors  take care of the langur after the operation (Photo:SGGP)
The HCM City Eye Hospital conducted a cataract surgery on a rare animal for the first time on December 1, helping a langur, listed as endangered, to find foods.
Doctors said the Phaco eye surgery, during which doctors implanted crystalline lenses on the four-and-half- year-old monkey, lasted 24 hours and its result was better than expected.
The langur, which belongs to a species under threat of extinction, can now move normally and easily find food, they said.
Monkey Mike is expected to be returned to the Nam Cat Tien Park in several months