The Vietnam Fisheries Surveillance Department on June 13 said that their ships and fishermen have continued standing firm on the East Sea to oppose China's illegal placed oil rig regardless of the worsening weather caused by a tropical low pressure system.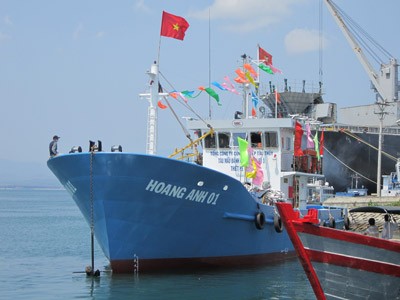 Fishermen are equipped with iron hulled fishing boats in the central region (Photo: SGGP)
Despite limited visibility caused by strong southwesterly winds and thunderstorms, they have kept constant presence in the area to demand China to withdraw their Haiyang Shiyou 981 oil rig from Vietnamese territorial waters. 
China maintained 116 vessels in the site including 42 coast guard ones, 14 transport ships, 18 tugboats and six military ships on June 13, according to the fisheries surveillance force. 
Their coast guards and tugboats got close to Vietnam fisheries surveillance vessels to prevent them from approaching the oil rig from the distance of 8-10 nautical miles. 
Chinese vessels were ready to ram Vietnamese ships. Their fishing boats gathered to besiege and keep Vietnamese fishing boats away from the area. 
The low pressure zone on the East Sea has intensified into a tropical depression, said the National Center for Hydro - Meteorological Forecasting. 
It was located 660 kilometers Northeast of Hoang Sa (Paracel) Islands at 7 a.m. on June 14 with strongest winds packing level 6-7 to move 39-61 kilometers per hour. 
The tropical depression is expected to head Northward at 5-10 kilometers per hour and further intensify in the next 24 hours. 
The north central region has seen medium to heavy rain for the last three days because of the low pressure trough which has developed into the tropical low pressure system. 
Average precipitation was measured 50-100mm and over 200mm in places. 
River water levels have surged in Thanh Hoa, Nghe An and Ha Tinh Provinces, which is forecast to cause a flooding on June 16. Mountainous areas are warned of flashfloods and landslides.