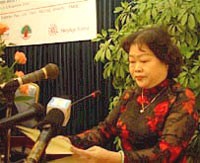 Vice President Truong My Hoa
Viet Nam's five centrally-managed cities are the engine of national development, Vice President Truong My Hoa told the leaders of these metropolises on Monday.
Ha Noi and Hai Phong in the north, Da Nang on the central coast, and Ho Chi Minh City and Can Tho in the south are located in Viet Nam's key economic zones and play an essential role in the development of the nation, she told the officials, who were meeting to review this year's first-half campaign for the five cities to emulate each other.
The five metropolises need to be good examples for the provinces to follow, she said.
Nguyen Thanh Tai, vice chairman of the Ho Chi Minh City People's Committee, said it was very important for the five cities to support each other in boosting socio-economic development.
To Minh Gioi, vice chairman of the Can Tho People's Committee, was of the same mind, saying "Assistance from the other four cities is a very significant factor in developing Can Tho in a rapid yet sustainable manner."
The cities' leaders passed regulations on the emulation campaign, among the most notable being that "a city will not be short-listed for the campaign if its leaders are disciplined for corruption or other wrongdoings that have a negative impact on society".