The death toll in floods caused by the 'Haima' typhoon has risen to 22 people and another four are still reported missing as of yesterday, according to the Steering Committee on Flood and Storm Prevention.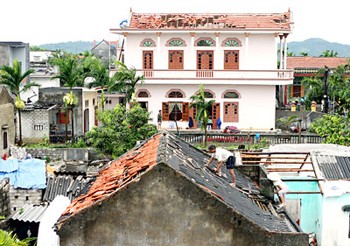 Typhoon 'Haima' destroyed many houses in Hai Phong City last week. (Photo: SGGP)
This was reported at a meeting held by the committee and local authorities of the Central Highland Province of Dak Lak yesterday afternoon to discuss ways to cope with storms and floods this year.
Local authorities in Quang Nam Province have mobilized people in remote villages to build warehouses to stock food items in case they are isolated by floodwaters besides reinforcing the dyke system and conducting flood and storm rescue exercises.
The Software Center for Water Resources proposed to build a remote control and monitoring system to forecast floods and operate reservoirs.
Last year natural disasters accounted for 256 deaths or missing persons, destroyed 4,000 homes and devastated over 220,000 hectares of rice and vegetable crops as per the Steering Committee on Flood and Storm Prevention.
Related articles:
Floods maroon mountainous communes in Nghe An
Floods threaten central region
'Haima' storm weakens, rains unabated
15 dead, missing in 'Haima' typhoon
Tornado, flashfloods kill six