Flash floods in Viet Nam have killed up to 33 people and three others are missing, government officials said on Monday.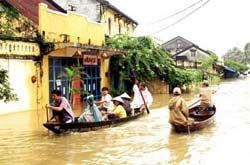 Villagers paddle to their flooded homes in northern Viet Nam
In Yen Bai province, four people were killed by swift mudslides on Saturday.

Rescue efforts were continuing on Sunday in the north, the hardest-hit area where landslides have killed dozens of people.

Low-lying land and landfall-prone areas across the nation are being declared disaster zones and rescue operations are going flat out.

Emergency crews, a dozen canal boats, seven special motor vehicles and a truck-mounted crane are being brought in to move nearly 2,500 families to safety.

In the southern province of Dong Nai, where two people were washed overboard, the torrential downpours have already swamped more than 45,000 hectares of crops. More heavy rain is forecast for the next few days.

Floodwaters are heading down several rivers in the northern and central highlands, and the Mekong river in the south is also tipped to keep rising.
The Ministry of Health has issued urgent directives to provincial authorities to help villagers in flooded areas. Above all, doctors fear that the flooding could lead to water contamination.
Related Articles:
Floods Kill at Least 29 in Viet Nam