At least 112 people have been killed and 45 were missing in northern mountainous areas after days of heavy rains triggered by a weekend storm, the government said on the Tuesday morning.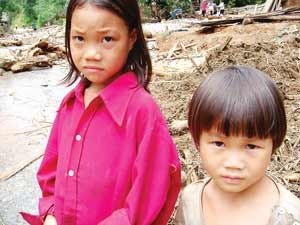 Flood victims in Lao Cai Province are in urgent need of emergency relief (Photo: SGGP)
According to the National Committee for Flood and Storm Preparedness, Lao Cai Province bordering China was the hardest hit by the deluge with 48 people dead and another 37 missing after floods swept through villages on the weekend.

The death toll in Yen Bai Province was 35. The other deaths included six in Phu Tho Province, eight in Quang Ninh, nine in Ha Giang, two in Lang Son, and one in Bac Kan, Lai Chau, Thai Nguyen, and Dien Bien each.
A total of 81 people were reported wounded.
Rescue forces are seeking to search missing people. On Monday and today, military helicopters delivered instant noodles and fresh water to residents in mud-covered villages the affected provinces. Most roads in the hardest-hit areas have been washed away.
Early Tuesday, the railway route between Ha Noi and hardest-hit Lao Cai Province was through. Many forces are seeking to recover washed-away roads to resume traffic. National Highway 279 was through again this morning, enabling vehicles to carry food, goods, petrol and other emergency relief items to Lao Cai.
Meanwhile, a tropical low-pressure system, formed in the Tonkin Gulf and was moving towards the north this morning, the national weather bureau said in an updated report. The low-pressure system is dumping heavy rains on islands and coastal areas.