Many roads in Lao Cai, Yen Bai and Phu Tho provinces have been blocked by rising water and landslides due to heavy rains brought by tropical storm Kammuri. Many areas have been isolated.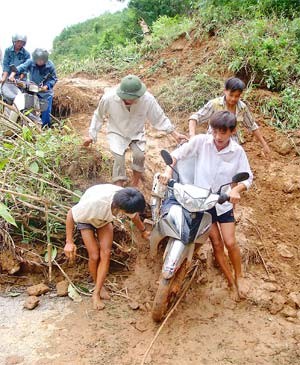 Landslide blocks a road in Lao Cai
Roads leading southward from Lao Cai and Yen Bai down are still blocked by floods and landslides.
On Road 70 between Pho Rang Town, Yen Binh District in Yen Bai and to Doan Hung Junction in Phu Tho, several sections have slide downward and have not yet been repaired.
 
A stretch of the National Road 4D from Sa Pa to Dien Bien is still undrivable due to earth and rock deposited by landslides.
 
A stretch of National Road 70 from Pho Rang Town to Lao Cai City was opened Monday.
 
Lao Cai Province's Communications and Transport Department said it will take about three or four days to clear the National Road 70, and Tuesday morning traffic was allowed on Road 279 so thousands of people and vehicles stuck in Lao Cai will be able to get out of the flooded area.
Flood waters swept away 307 houses and flooded 4,230 houses. They damaged more than 3,500 hectares of cropland destroyed another 9,000 hectares.