Rivers and canals are overflowing due to excessive flooding and high tide in the Mekong Delta Provinces, badly affecting the lives of people and causing huge loss to agricultural production.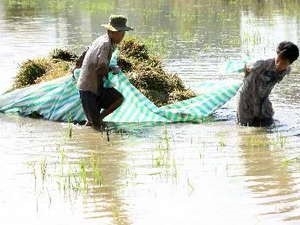 (Photo: Can Tho Television)
In Soc Trang Province, high tide plus excessive flooding broke stretches of 16 embankments in Dai An 1, An Thanh 3, An Thanh Nam Communes in Cu Lao Dung District, inundating 160 hectares of orchard and vegetable fields.
In Tra Vinh Province, three kilometers of dykes and thousands of protected casuarina forest trees in Hiep Thanh, Truong Long Hoa and Dan Thanh Communes in Duyen Hai District were destroyed.
Hiep Thanh Commune is being seriously eroded with high tide, causing damage to 0.6 hectares of vegetable growing area.
In Can Tho City, roads were inundated for three days causing inconvenience for locals. Thousands of vehicles were moving slowly in the City's downtown area leading to traffic congestion.
Floodwaters in parts of Highway 1A in Hau Giang Province measured 30 cm. Local governments and residents tried to shore up embankments but their efforts failed.
Four dykes and four levees were broken under the strength of strong water currents, resulting in 45 hectares of orchard area being inundated.  In Nga Sau Town, 10 hectares of fruit and vegetable gardens were submerged.
In Vinh Long Province, water levels in rivers and canals exceeded the third-stage warning level by 0.05-0.15m. 900 hectares of paddy fields and orchards and 940 fish ponds overflowed with water. Initial estimates of damages exceed VND4.2 billion (US$ 199,164).