Rising floodwater has forced the evacuation of over 1,500 people in the Central Highlands and down south in the Mekong Delta, officials said on Tuesday.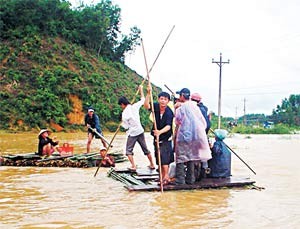 People are moving to higher ground in the flood-prone area
In Dak Lak and Dak Nong provinces in the highlands, nearly 1,000 people have been moved to safety after heavy rain and occasional rainstorms caused rivers to swell to dangerous levels.
The evacuation in Dak Lak came after more than 20 kilometers of roads had been submerged and the water showed no sign of abating.

Already one villager has been killed, more than 1,000 homes flooded, and over 4,000 hectares of crops ruined.
In Dak Nong, the rising waters are threatening the residents of the province's two largest towns. All the small bridges in the vicinity have been wrecked and 900 families affected.
In Lam Dong, 24 of the province's 33 towns are underwater, more than 2,000 hectares of farmland is ruined, and traffic on the roads has been severely hampered by what is without doubt the region's worst flooding in five years.

With the rain continuing to fall and the waters still rising, the provincial authorities are preparing to evacuate more households from low-lying areas.
Because so much of Lam Dong is flooded or heading that way, a special taskforce has been established to provide 20 days of food, potable water and accommodation for the inevitable influx of more evacuees.

Down south, repeated rain has caused flooding in the Tien and Hau Rivers, the two main arms of the Mekong. Some areas are vulnerable to massive landslips and nearly 5,000 households in Dong Thap province are threatened.
In the past few days, driving rain and strong winds have flattened nearly 500 homes and killed one child in the delta region.

Westward in An Giang province, more than 600 families living in a landslip-prone area along the Vam Nao River have not budged from their precarious locations.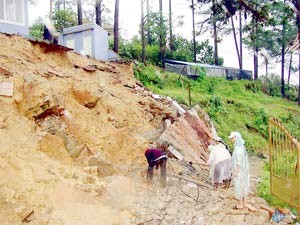 Landslide in Lam Dong province
In Kien Giang to the south, four fishing boats were wrecked off the coast after fighting rough seas for days.

Flood control headquarters reports that three hydroelectric dams in southern Viet Nam have been discharging water at a rate of 1000 cubic meters per second since Monday.
In the central coast provinces of Nghe An, Ha Tinh and Quang Binh, the flooding and rain-induced landslides have caused direct economic losses of up to VND55 billion.

On Tuesday the weather bureau said the rain and strong winds would continue and could intensify in the days ahead.

Related Articles:
Foul Weather a Curse to Most, a Blessing to Some
Heavy Rains, Floodwaters Rise, Fishermen Missing
Storms Leave 800 Homes Submerged, One Dead in Northern Viet Nam
Mekong Delta Gears up to Prevent Flooding
Cao Bang Province Flooded by Heavy Rains
Hundreds People Evacuated from Area Affected by Prapiroon
Typhoon Causes Heavy Rain in Northern Viet Nam
Nearly 300 Fishing Boats Shelter from Storm
Typhoon Prapiroon to Hit Viet Nam Soon
Storm Prapiroon Hits Tonkin Gulf
Storm Prapiroon Brings Heavy Rain to Southern Viet Nam
Flood Predicted Possible in Southern Viet Nam