Flooding and landslides have killed at least 29 people and left one missing over the past few days in Viet Nam according to reports, but the real toll might be higher.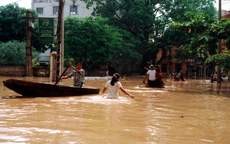 In a flooded area
Four people were killed in a landslide in the northern province of Yen Bai on Saturday. On the same day, flash flooding swept away 15 houses, killing a couple in Quan Hoa District, Thanh Hoa Province, also in the north.
On Friday, floodwater on the Pho Day River in the northern province of Vinh Phuc capsized a boat, killing one farmer.
As rains and floods have wreaked great havoc in various areas in the country in recent days, Prime Minister Nguyen Tan Dung on Saturday sent an urgent message to ministries, military and police forces, cities and provinces to take prompt actions to cope with emergency situations. He ordered emergency relief for the victims and evacuation of people out of areas with high risks of flash floods and landslides.
The Prime Minister asked authorities of flood-hit provinces to quickly carry out measures to help their residents return to normal life.
Related article
Viet Nam Floods, Landslides Kill 12