The Southern Hydro-Meteorological Station predicted the flood-tide water levels would continue to rise higher in the coming days in the southern provinces.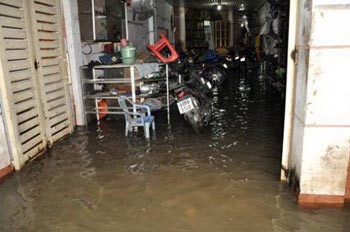 Many houses along Sai Gon River are flooded due to flood tide
The station also informed that the water levels have probably exceeded the second warning mark. By February 18, the flood-tide water levels at the Phu An pumping station (Sai Gon River) are expected to be 1.34 metres; on February 19 the level is predicted at 1.4 metres and the next day it could go up to 1.42 metres, higher than the second alert mark.
At the Nha Be pumping station (Dong Dien River), flood-tide water levels will be 1.31 metres on February 18, 1.36 metres on February 19 and 1.39 metres by February 20.
The flood-tide waters are rising dangerously high due to a current of cold air which is moving from the north to the south because of strong north-easterly winds which push the sea water inland.
The outskirts and surrounding areas of Ho Chi Minh City will probably suffer flooding which will affect the livelihood of locals.
The Central Storm, Flood Prevention and Rescue Board has asked local authorities to check the outskirts and surrounding areas of Ho Chi Minh City such as district12, Go Vap, Binh Thanh, Cu Chi, Hoc Mon as well as the low lying and depressed areas in the inner districts of the city.
The center has also asked local authorities to be vigilant of high-rising flood-tide waters which may overflow the banks of dykes.