UNESCO has recognised the Vietnamese vi and giam folk songs as being symbols of intangible cultural heritage of humanity.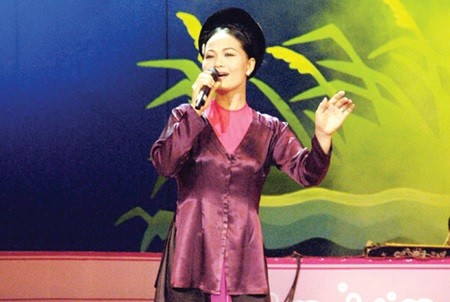 An artist from Nghe An Province performs vi giam songs. The art form has been recognised by UNESCO as a symbol of the intangible cultural heritage of humanity. — VNA/VNS Photo Thanh Ha
The announcement was made on Thursday night at the ninth session of the Intergovernmental Committee for the Safeguarding of Intangible Cultural Heritage held in Paris.
In the central provinces of Nghe An and Ha Tinh, vi and giam songs are not accompanied by musical instruments. People sing them while working or doing activities such as cultivating rice, rowing boats or making conical hats, besides lulling children to sleep.
Speaking at the Paris session, deputy minister for culture, tourism and sports Dang Thi Bich Lien said that the recognition of vi and giam as cultural masterpieces of humanity is of great significance to Viet Nam as the songs play an important role in the local community.
Permanent Vice Chairman of the Ha Tinh provincial People's Committee Nguyen Thien and vice chairwoman of Nghe An provincial People's Committee Dinh Thi Le Thanh, who also attended the session, said that they were proud of the recognition accorded by UNESCO to the folk songs of their localities.
They also acknowledged the responsibility for and the necessity of having specific measures to preserve the heritage, thus helping promote cultural identity and boost the sustainable development of the two provinces.
Vi and giam are the ninth Vietnamese cultural practice to receive UNESCO's intangible heritage status.
The other eight practices are Hue's royal court music, gong space culture in Tay Nguyen (Central Highlands) and love duets of the northern province of Bac Ninh, besides the Giong festival, ca tru ceremonial singing and xoan singing, as well as don ca tai tu music and the worship of Hung Kings.
At the Paris session, 33 other cultural practices from across the world were also recognised by UNESCO as being intangible cultural heritage of humanity, raising the total number in the list to 314.