Food safety and quality were necessary for achieving sustainable agriculture growth, said Deputy Minister of Agriculture and Rural Development Le Quoc Doanh at an annual food safety forum held in Ha Noi on Wednesday.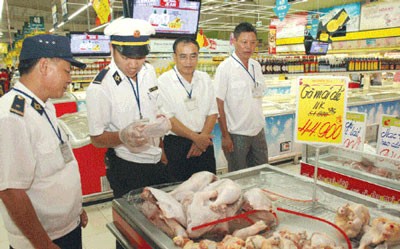 Veterinary staff inspect fresh meat sold at the BigC Thien Truong supermarket in Nam Dinh City. Improved food safety and quality is vital for sustainable agriculture growth in Viet Nam, officials say. — VNA/VNS Photo Dinh Hue
Figures were produced at the forum, organised by the Ministry of Agriculture and Rural Development, showing that attention to these two essentials had boosted overseas exports of fruit and vegetables.
"While the State continues support localities in the agriculture sector, the demand for safe products is the biggest force in improving the quality of farm products," Doanh said.
Manager of the Sustainable Rural Livelihoods project, Ngo Tung Thu, said that the supply of safe vegetables in Viet Nam fell far behind demand.
The project was initiated in 2009 in the Central coastal province of Binh Dinh to promote the farming of safe vegetables.
"Most of residents want to buy safe vegetables, but they often cannot telll them apart from unsafe products," Thu said.
The confusion was caused by low public awareness about VietGAP (Vietnamese Good Agricultural Practices), a certificate granted to farm products that meet the standards in production and post-production processes.
VietGAP is applied to five agricultural products, including coffee beans, tea leaves, rice, fruits and vegetables.
"The Government should improve inspections of safe products in general and VietGap-qualified goods in particular to build up consumer trust in the Government-issued certificates," Thu said.
His idea was backed by director of the Biggreen food company, Nguyen Tien Hung.
"Companies providing safe farm products also have to prove to the customers that they are qualified in their jobs. For example, all the information of the products and their origins should be placed on the product's stamps," Hung said.
Thu suggested the Government support the establishment of suitable supply chains between farmers and markets.
Meanwhile, statistics from the agricultural ministry show that exports of fruit and vegetables is expected to reach $1.4 billion this year, compared to $1.1 billion in 2013. Improved food safety is credited for the increase.
The forum was attended by agriculture experts and representatives of projects funded by the New Zealand Agency for International Development and the Canadian International Development Agency.