At a conference on December 7, organized by the Da Nang City People's Committee to review ten years of implementation of a Government Decree to secure Vietnam's territorial waters, the border army in the City said since 2004 more than 4,500 foreign boats have infringed on Vietnam's sovereignty.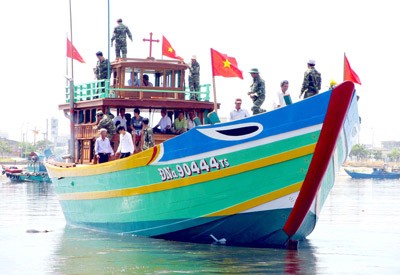 The largest logistics fishing vessel in the central region was launched in Da Nang City (Photo: SGGP)
Of the 4,500 boats seen infringing on Vietnam's territorial waters, some hundreds of fishing boats were caught and later released after acknowledgment by them that they were violating the country's sovereignty. 
The People's Committee of Da Nang City has put some measures in place, as per instructions of the Prime Minister, to prevent China from distributing maps and publications on 'the U-shape line' to local residents in the City, especially in border areas where several foreigners are living and working.
In November, authorities in Da Nang City uncovered and handled 411 cases in which passports had the U-shape line clearly printed on them, and 13 cases in which foreign nationals illegally purchased seafood at Tho Quang fishing port and did timber surveys at Tien Sa Port.