During a December 20 press briefing, Ministry of Foreign Affairs (MoFA) spokesman Le Dung announced MOFA is to officially launch a campaign on December 23 in Ha Noi to appeal for votes for Ha Long Bay to become one of the world's seven new natural wonders.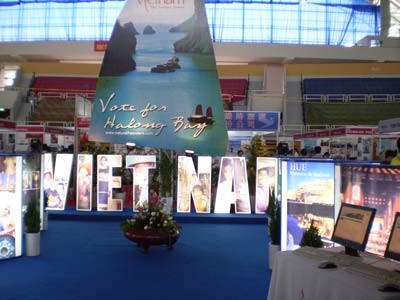 The slogan "Vote for Ha Long Bay" can be seen in the 2007 International Travel Expo held in Ho Chi Minh City from Oct 5 to 7
Previously, the ministry organized a poll to call its staff and overseas Vietnamese around the world to vote for Ha Long Bay.

Viet Nam's famous rock-n-water destination has been put on display already at the Swiss organization's website at www.natural7wonders.com.

Spokesman Le Dung also announced an upcoming conference to be held in Viet Nam over December 8-9 and themed "Viet Nam – A Rising Star in Asia". The conference is to become the first event organized in Viet Nam by the world-renowned "The Economist" magazine, in collaboration with MoFA's "World and Viet Nam" newspaper.

The conference is to introduce Viet Nam's economic development strategy and its policies on investment and business to a forum of international analysts and policy makers.

Other objectives are to include a commercial exhibition, a ceremony to award outstanding firms, and a round-table forum between senior leaders of multinational companies, Viet Nam's government and local businesses.

Those participating in forum are to be joined by Prime Minister Nguyen Tan Dung,  Deputy PM and Minister of Foreign Affairs Pham Gia Khiem.