Vietnam needs to ensure foreign investment is directed to sustainable industries and the country needs to do more to train rural workers.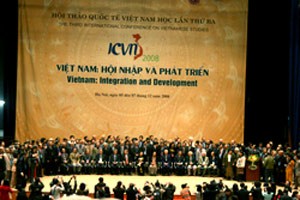 Academics and officials at the 3rd conference on Vietnamese studies held in Ha Noi on December 5-7
These are some of opinions voiced by international and local scholars at a three-day conference on Vietnamese studies, "Vietnam: Integration and Development", which ended in Ha Noi on December 7.
At the opening ceremony, Vietnamese Vice President Nguyen Thi Doan said the Vietnamese government required in-depth studies to scientifically map its strategies and policies
The country was facing great challenges from climate change and the global financial crisis as it worked on socio-economic development, she said.
Ms. Doan expressed her hope that Vietnamese and foreign scientists will boost their cooperation to develop Vietnamese studies into a strong science.
Dr. Phung Xuan Nha of the Ha Noi National University said foreign direct investment (FDI) had made great contributions to the country's economic growth. However, it has not enhanced the quality of the country's growth and had caused severe environmental pollution.
FDI, therefore, must be used to benefit both partners - Vietnam and foreign investors, he said.
The government needs to limit investment licenses in sectors that don't boost exports but exhaust the country's material resources and pollute the environment, such as heavy industry, real estate and construction of golf courses, Dr. Nha added.
Former deputy prime minister Vu Khoan said policy makers, management agencies and enterprises must be more concerned about the latest developments and forecasts for the global economy because the situation was changing so unpredictably.
Scholars said the country's international economic integration and globalization process has boosted Vietnam's development but it had badly affected farmers and poor urban inhabitants.
Dr. Duc Vuong from the Institute of Science Studies for Talents and Human Resources said Vietnam's rural labor force was not being used to its full potential. About 90 percent of farmers and rural management authorities had not received adequate training, he said.
At the same time, Vietnam's agricultural land was dwindling. The government reclaimed 72,000 hectares of farming land per year from 2000 to 2007 for industrial development, putting many farmers out of work, he added.
Dr. Vuong said the government should improve its financial polices, develop infrastructure, modernize education and ensure its workers were well-trained, especially those in rural areas.
 
A study by Eren Zink from Sweden's Uppsala University revealed that young overseas-educated Vietnamese scientists, considered vital to the nation's development, were not given favorable working conditions at Vietnam's national science institutes.
The conference, which is the third of its kind, focused on practical issues facing Vietnam in the era of globalization and international integration.
The conference, organized by Ha Noi National University and the Vietnam Social Science Institute, attracted 700 local and 200 foreign scholars from 23 countries and territories, delivering 500 reports dealing with a wide range of aspects, including new issues relating to Vietnam's agriculture and rural development, natural resources and the environment.