As Ho Chi Minh City's real estate market is starting to cool down, domestic investors are hopeful that next year will see vigorous activities when overseas Vietnamese are expected to send home up to US$5 billion.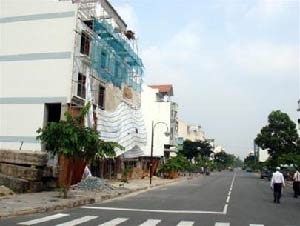 Oversea Vietnamese are interested in the Nam Sai Gon New Town

Some domestic real estate agencies estimated that 50% of that amount will be poured in the real estate market, both by investing into finished housing projects or placing preorders for apartments yet to be built.
It was also predicted that the areas to enjoy enormous investment would be District 1, 2, 3 and the Nam Sai Gon New Town.

These unofficial predictions mostly warmed up the cold real estate market and raised hopes for the housing development's investors and owners. 
Recently, there were some housing projects announced, in particular two projects on Huynh Tan Phat Street, District 7 and on Nguyen Huu Tho Street, Nha Be District, each consisting 1,000 apartments.
Despite slowing transactions, Phu My Hung has raised its apartment prices by 5% over the past two months.

A good signal came from land trade. According to a real estate agency in District 2, the lands used in the Him Lam Project, the Tan An Huy Project and the An Phu-An Khanh Project have just been purchased, however, this trading is still slow.

Most buyers' demands matched the liquidation need of the sellers, thus, the housing transactions were carried out successfully, a real estate agency's director commented.
Real estate owners wanted to liquidate their old land in a short time aiming at moving capital from the old ones to the new ones, he added.