In recognition of almost a lifetime of service, Party General Secretary Nong Duc Manh solemnly presented a 70-year Party Membership Insignia to Do Muoi, one of his predecessors, in Ha Noi on Feb. 3, also the date of the Party's 79th anniversary.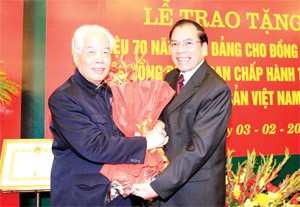 Party General Secretary Nong Duc Manh presents flowers to former Party Leader Do Muoi to commemorate his 70 years of Party membership yesterday in Ha Noi (Photo: SGGP)
The formal ceremony took place at the Office of the Party's Central Committee in the presence of former Party General Secretary Le Kha Phieu, former State Presidents Le Duc Anh and Tran Duc Luong, former Prime Minister Phan Van Khai, National Assembly Chairman Nguyen Phu Trong, among other senior officials.
On behalf of the Party's Politburo and Secretariat, General Secretary Nong Duc Manh congratulated the former leader, saying that the badge was bestowed by the Party in recognition of his achievements and contributions to the nation over the past 70 years.
Mr. Muoi expressed his thanks to the Party and spoke of his great happiness to be awoken by the Party, to have participated in the revolutionary struggle against colonialism to achieve national independence and to have contributed to the national causes of renewal and socialist construction.
Born in 1917, Mr. Muoi joined the Communist Party in 1939 and held numerous positions of importance, both in the Government and the Party, including chairman of the Ministers' Council (1988-1991) and the Party General Secretary (1991-1998).