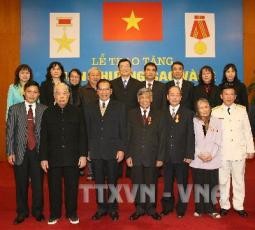 The former leaders at the award ceremony in Ha Noi yesterday
Six former Communist Party and Government leaders were awarded the Gold Star and Ho Chi Minh Orders at a ceremony held in Ha Noi on Dec. 25.
Among the awardees, former Party General Secretary Le Kha Phieu received the Gold Star Order, and Phan Dien, former member of the Political Bureau and permanent member of the Secretariat of the Party Central Committee, got the Ho Chi Minh Order.
At the ceremony, Party General Secretary Nong Duc Manh said the awards showed the Party and State's recognition of great contributions made by the former leaders to th country's revolutionary cause.