Tran Minh Duan, former first vice chairman of the Khanh Hoa Province People's Committee, will go to trial soon for a multi-million-dollar land scam in the central coast province.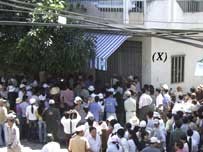 The crowd witness the police search Duan's house in Nha Trang.
Duan got the bad news when police arrived at his home in the provincial capital, Nha Trang, on Thursday morning to search the premises, just a few hours after he and his family had returned from a trip to China.

A week previously, while Duan was still in China, the Supreme People's Prosecution Bureau had agreed to a police proposal to indict Duan for 'irresponsibility resulting in serious consequences'.
The scandal dates back to 2003, when Duan held high office. According to police, he illegally granted a land-use certificate for the 45-hectare Rusalka resort project headed by Nguyen Duc Chi.
The certificate was issued even though the "investor" had not completed such basic procedures as compensating the affected residents on the project site, nor had he signed a land lease.
Police say that having the certificate in hand allowed Chi to dupe banks and private citizens into parting with a total VND70 billion, supposedly for developing the Rusalka project.
Several other State officials are also facing prosecution for their part in the scam. Among them is Nguyen Thi Thu Hang, deputy vice chairwoman of the Khanh Hoa People's Committee.
This July, the police asked the Supreme People's Prosecution Bureau to approve a proposal to charge her with "intentional wrongdoing with serious consequences".