Goods including red mud aboard Ying Rich were imported into Vietnam lawfully with sufficient and valid documents, reported the Customs Division at Vung Ang seaport in the central province of Ha Tinh yesterday.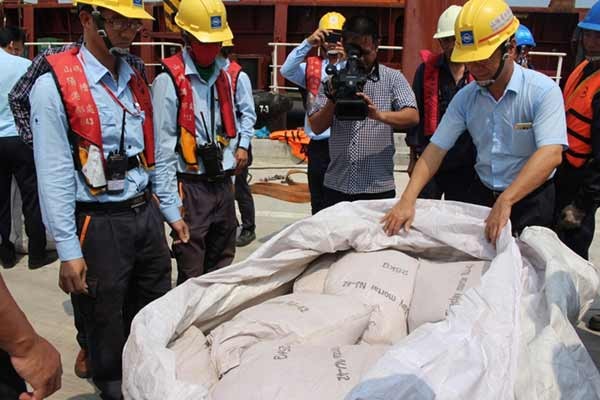 Authorized agencies inspect the cargo consignment of Formosa at Son Duong port on September 17 (Photo: SGGP)
The Hong Kong ship carrying the goods docked at Son Duong Formosa Port on September 15.
The division's leaders were reporting to deputy chairman of the Ha Tinh People's Committee Duong Tat Thang and a provincial interagency mission, who were present at Vung Ang Economic Zone (EZ) to inspect the goods' import.
According to the division, the consignment comprises refractory bricks and mud imported to serve transportation of liquefied iron and construction of some project items of Hung Nghiep Formosa Ha Tinh Steel Company.
The Ha Tinh Customs Department put the consignment on the yellow line and passed customs clearance. Cargo in the yellow lines means customs officials will supervise the customs clearance process not check the goods.
On the other hand, the Ministry of Construction on September 14 last year issued a document confirming that the refractory materials FHS imported have not been produced domestically.
Another document sent to FHS by the Ministry of Planning and Investment also confirmed the same content. 
After inspecting, Mr. Duong Tat Thang and the mission found that goods in bags are red mud and aluminum powder FHS imported to transport liquefied iron and build some items of its project in Ha Tinh.
Mr. Thang required customs forces in the province to categorize, store, manage the cargo and bear responsibility for working with the provincial Department of Natural Resources and Environment, the Police Department to take samples for testing and answer public questions and concerns about the bauxite residue import.
At first, customs forces are required to coordinate with businesses to unload the consignment, transport to warehouses and keep a close eye on it until there will have testing results and final conclusion of authorized agencies about the consignment.
Deputy head of the Customs Division at Vung Ang port Nguyen Minh Xuan said that cargo aboard Ying Rich was in the list of permitted import goods of the industry and trade industry. It had customs declarations with sufficient documents and tax bills.
Therefore, the consignment was eligible for normal customs clearance, he said.
If customs, police and environment agencies have doubts about the goods, they will take samples for testing and the division will coordinate with them to do so, he added.
At a meeting with authorized agencies yesterday afternoon, a FHS representative said that the refractory mud or power would be mixed with water to create a type of mortar. Its main ingredient is aluminum oxide.
The mortar was used for gluing refractory bricks to create liquefied iron carriers at an extremely high temperature, the representative added.