On December 13, the managing committee of Phong Nha-Ke Bang World Natural Heritage Site said a fossil skeleton had been found by explorers in Son Doong Cave--the world's largest cave--in the north central province of Quang Binh.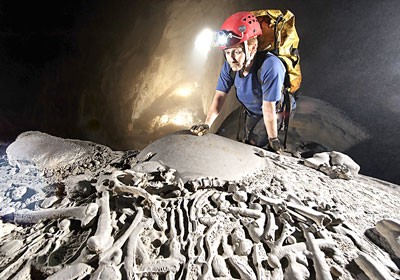 The fossil skeleton was found in Son Doong Cave in Phong Nha-Ke Bang National Park
The fossil skeleton was found by Howard Limbert, an explorer with the British Royal Cave Research Association. He found the skeleton covered with a thick coating of fossilized limestone.
According to experts, the skeleton may be that of a tiger which died at the spot hundreds of years ago. They will take a small sample of the skeleton to study but will not move it from its present position over a high stalactite, where floodwaters cannot reach.