State President Nguyen Minh Triet sent a letter Monday complimenting a kind-hearted Vietnamese couple who are foster parents to many disadvantaged and ill-fated children in the southern province of Khanh Hoa.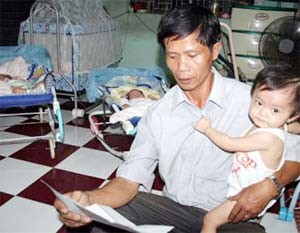 Kind-hearted foster-father Tong Phuoc Phuc is reading the letter of compliment from State President Nguyen Minh Triet.
In his letter, the president expressed that he was deeply touched when he heard of a poor construction worker in the coastal city of Nha Trang, Mr. Tong Phuoc Phuc, and his wife, Nguyen Thi Le Yen, having adopted some 24 abandoned infants and looking after many young expectant mothers since early 2004.
"I highly praise your benevolent work and wish you all good health and happiness so you may continue your inspiring acts. You are not only a shelter of the misfortunate, but also a living example of honor and human dignity," the president wrote in his letter.
"I urge all levels of government authorities, the fatherland front (in charge of domestic social care) and people nationwide to strongly support such charitable activities and create the most favorable conditions for those people like Mr. Phuc and his wife to continue to do such great deeds," the president concluded in his letter.
Inspirational Kindness of Foster-Father
Mr. Phuc, 37, is currently a foster-father of numerous disadvantaged babies as well as a spiritual father of hundreds of deceased infants through his work as a volunteer at an isolated cemetery on Hon Thom Mountain in Nha Trang's Vinh Ngoc Village.
Recently, Mr. Phuc and his wife have adopted four babies whose mothers were too poor to feed them; one is 11 months old and the other three are 4 months old. The children's mothers have asked Mr. Phuc to raise their babies and he agreed officially via a commitment letter to return their children anytime without conditions.
The kind-hearted couple has provided their new children with their bountiful love and has poetically christened them with names such as Vinh (Glory), Truong (Perpetuity), Loc (Prosperity) and Tam (Good Heart).