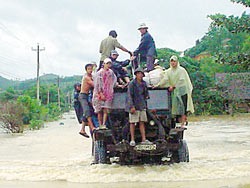 Many families are evacuated from flood areas in Central Highlands on August 15, 2006

Strong winds, rough seas and driving rain are threatening to leave more than a thousand fishermen working off Viet Nam's southwest coast short of food, drinking water and fuel as the conditions are too severe for the supply boats to get out to them.
On the nearby mainland, around 5,000 families in Kien Giang province have been evacuated from flood-prone areas and given temporary shelter.

Around 2,000 houses are under construction for the almost certain influx of more evacuees in September.
The severe weather has halted the passenger ferries between Rach Gia on the mainland and Phu Quoc Island, and two extra flights a day have been added to compensate.
In An Giang and Vinh Long provinces, the authorities reckon more than 24,000 families will flee to safety from the rising waters of the Mekong Delta.
The weather bureau says the Tien River measured 3.02 meters and the Hau River 2.42 meters on Monday. Further north, the bureau predicts the Dong Nai River will continue to swell till the end of this week.
In Binh Thuan on the lower central coast, the torrential rain has caused the La Nga River to break its banks and ruin 460 hectares of crops.
In the Central Highlands, a flash flood triggered by repeated downpours in Dak Lak killed one person, swept away 1,278 homes and destroyed nearly 4,000 hectares of crops. Emergency crews evacuated 45 children, 15 elderly people, more than 100 pigs and four tons of food to higher ground.
On Monday, Viet Nam's Prime Minister announced relief funding of VND26 billion for villagers in the worst-affected mountainous regions.
On a brighter note, the ceaseless rain has eased the drought in Da Nang, Quang Binh and Nghe An on the upper central coast and brought relief to the region's desperate farmers.

While senior officials have embarked on a public information campaign warning of the possibility of more flooding, the wet weather has mostly missed Phu Yen and the drought in the central coast province shows no signs of abating.

Phu Yen's chronic lack of rain has pushed the danger of forest fires to the highest level ever, and the local authorities are busy preparing for a possible inferno.

Related Articles:
Heavy Rains, Floodwaters Rise, Fishermen Missing
Mekong Delta Gears up to Prevent Flooding
Cao Bang Province Flooded by Heavy Rains
Hundreds People Evacuated from Area Affected by Prapiroon
Typhoon Causes Heavy Rain in Northern Viet Nam
Nearly 300 Fishing Boats Shelter from Storm
Typhoon Prapiroon to Hit Viet Nam Soon
Storm Prapiroon Hits Tonkin Gulf
Storm Prapiroon Brings Heavy Rain to Southern Viet Nam
Flood Predicted Possible in Southern Viet Nam