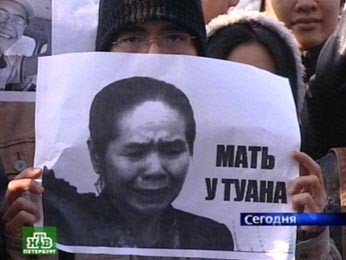 A foreign student raises the photo of Vu Anh Tuan's mother in front of St.Petersburg Court on Monday Oct.23, 2006 (Photo: NTV)
The Saint Petersburg Court on Monday released four of five detained defendants in the murder trial of a Vietnamese student in October 2004.
The decision was made following an October 17th judgment of the Saint Petersburg Court's jury that stated all defendants "not guilty", contrary to the prosecutors' indictment.
According to the prosecution, Vu Anh Tuan was killed at ten o'clock in the evening of December 13, 2004 in Lev Tolstoi Street by a gang of 17 drunken Russian teenager. However, only five of 17 defendants were imprisoned.
Currently only one defendant is still in prison but he is charged of taking part in the attack of a Ghanaian student.

Around 500 students from Vietnam, India, China, Arabian and African countries gathered in front of the court claiming for a harsh sentence for the murderers.

They brought his photos and slogans in Russian like "Down with racism", "How many deaths will there be again?", and "Justice for Vu Anh Tuan".

Related article:
Viet Nam Requests Russia to Ensure Safety of Vietnamese in Russia