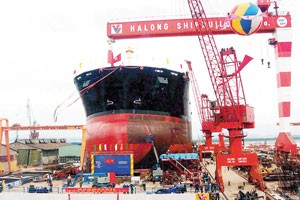 The HL01-Florence freighter
Ha Long Shipyard under Viet Nam Shipbuilding Industry Corporation (VINASHIN) launched the 53,000 - ton tonnage HL 01 – Florence freighter on April 6, 2006.
It is now the first freighter of this class made in Viet Nam.
The ship designed by a Denmark company, Carl Bro, was ordered by Britain's Graig Group, an international ship owning and shipping services group.
HL 01 – Florence is 190 meters in length, 32.26 meters in width, 17.5 meters in height, the engine's capacity is 9,480 kW, and the hold's capacity is 65,000 cubic meters.
After the HL 01, The Ha Long Shipyard has started to build the 53,000 - ton tonnage HL 02.

Related Article: