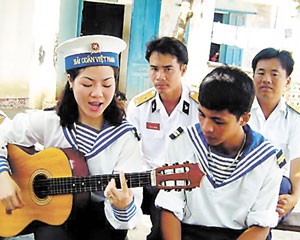 Naval officers listen to a singer from the mainland
After several days in the blue sea, a naval ship carrying a delegation led by Chairman of Ho Chi Minh City People's Committee Le Thanh Hai arrived at Truong Sa (Spratly) archipelago.
When the ship pulling in on shore, naval officers greeted visitors with big hugs.
Naval servicemen, when hearing the news that there would be a visit from land, were so excited that they spent the night sleepless.
It has been long time since they heard warm voice and cheery smiles from the mainland.
"I am so proud to be a representative of Ho Chi Minh City doing my duty on the islands," Huynh Tan Phat, a 20 year-old naval officer, said confidently.
Nguyen Hai Trieu, 19, is the youngest but has spent five months on the islands. He said that he had joined the navy with the highly respected image of his father -a former Vietnamese People's Naval officer- in his mind. "My dream has come true. I will stay here with the navy", he said.
Knowing the working environment in the place, the people from the mainland feel more sympathy for the daily life and hard work of the servicemen.
Singers Boneur Trinh and Dong Quan whole-heartedly sang, despite being exhausted after a long voyage to the islands.
Chairman Le Thanh Hai felt satisfied with the better living condition of these militants; however, he added that they are still in severe need of more care that powers them to wholeheartedly fulfill their duty.
Coming from different places, speaking in distinct regional accents, all navy servicemen consider themselves members of a big family that encourages them in many harsh but crucial tasks.
The Chairman asked the city's related agencies to have more practical actions to contribute to the socio-economic development of Truong Sa (Spratly ) archipelago.
Social and employment policies should be taken into account so that militants could earn a stable and better life after finishing their military service, he added.
The trip led by the Chairman in early April aimed at encouraging and supporting the navy servicemen on Truong Sa (Spratly ) archipelago