People in Ho Chi Minh City flocked to pagodas on the occasion of the lunar year's first full-moon day on February 8 to pray for good fortune.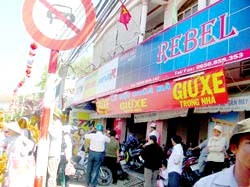 Many people converted their houses into parking lots for motorcycles in the area near Ba Pagoda, Binh Duong Province, on February 8 but asked for VND10,000 from the owners. (Photo: SGGP)
The Ong Ba Chieu (Mr and Mrs Chieu) Royal Tomb was a popular place to release birds.
Vendors with bird cages sold them for VND35,000 to 40,000 each, and because of the huge demand they caught the birds again after devotees released them. But many of the birds died or were so exhausted they could not fly again.
There were no fortune tellers at the tomb this year but many people offered to predict the future by drawing lots.
There was no incense smoke casting a pall or getting into visitors' eyes at many pagodas in the city. At Vinh Nghiem Pagoda in District 3, there was a board telling visitors not to bring more than three bunches of incense.
At Xa Loi Pagoda in the same district, there were 20 lottery ticket sellers and beggars. Though, mercifully, they did not bother people with their insistent solicitation, they did diminish the solemnity of the occasion.
Binh Duong parking lot rip-off

In the afternoon a stream of vehicles arriving at Ba (madam) Pagoda in the neighboring province of Binh Duong could not find places to park.
Many youths stood on the streets and invited motorcyclists to park in improvised lots, demanding VND10,000 for a bike and 2,000 for a helmet.
For cars with up to12 seats the rate was VND20,000 per and for large vehicles it was a steep VND60,000.
Many drivers were unhappy, saying even in downtown HCM City during Tet, parking cost just VND15,000 to 30,000.
Other items at Ba Pagoda too were expensive: a large incense stick cost hundreds of thousands of dong while a bag with a few oranges and custard apples cost 45,000, three times the normal price.
Do Minh Quang, deputy chairman of Phu Cuong Ward in Thu Dau Mot town, said in the morning there were three cases of cell phones and handbags being stolen and one thief was caught.
Earlier, on February 6, a group of six men calling themselves "street knights" caught six pickpockets from Quang Ngai Province at Ba Pagoda, and the security guard and police nabbed seven pickpockets.