National Assembly Chairman Nguyen Sinh Hung and other high ranking officials yesterday night, April 19, attended a gala two-day festival at the Vietnamese Ethnic Culture-Tourism village in Hanoi.
Launched in 2010 to commemorate the 1,000 anniversary of Thang Long-Hanoi, the Vietnamese Ethnic Culture-Tourism village is located on a 1,544 hectare area in Dong Mo in Son Tay, and is a complex of traditional Vietnamese architectural structures highlighting the unique characteristics of the nation's ethnic culture.
The two-day gala event was one of the main highlights at the festival symbolising features of various Vietnamese Ethnic Cultures.
Spectators can enjoy the model 'Nha Rong'(Rong House)- a typical house of the Tay Nguyen ethnic group; Khmer pagoda; Muong 'San House'; Champ tower or 'Dan ca tai tu'- an intangible culture of the Mekong Delta river area.
A model structure of a market also represents the cultural characteristics of the mountainous ethnic groups: Dao, Tay and Meo.
The festival will contribute to promoting cultural tourism; and create a living space that is rich in culture for ethnic groups and tourists alike.
The festival will also help to create links between tour operators, relevant agencies and local authorities to promote cultural tourism.
Delivering his speech, National Assembly Chairman Nguyen Sinh Hung stressed Vietnam's commitment to promoting solidarity among its 54 ethnic groups.
He stressed on the diversified culture of Vietnam, calling cultural development a consistent national priority and motivator for socio-economic development as well as national industrialisation and modernisation.
Chairman Hung stated that the Party and the Government would always execute a policy for maintaining the modern and traditional culture of equality, harmony and unity between the ethnic groups.
Besides, Vietnam has adopted the political platform of exchange, preserving traditional cultural values and acquiring international cultural quintessence, he added.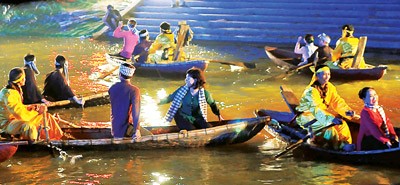 A performance in the Gala festival at Vietnamese Ethnic Culture-Tourism village
There will be proper policies to attract investors and detailed development plans with a focus on culture, tourism and economic development.
As part of the festival, a conference was also held to promote investment in cultural tourism, attracting 200 companies. At the conference, participants discussed various ways to promote tourism and called on investors to develop tourism products at the village.
In response to the activities of the Vietnamese Ethnic Cultural Festival, on April 19, the Cultural Centre of District 5 in HCMC organised an art show extolling and glorifying the Communist Party, President Ho Chi Minh, and love for the motherland.
On this occasion, an exhibition titled-Cultural characteristics of ethnic groups- was held at the Cultural Centre in District 5 of HCMC.