Although the waste treatment plant at Hoa Phu in Vinh Long Province became operational at the beginning of this month, it is yet to open to business.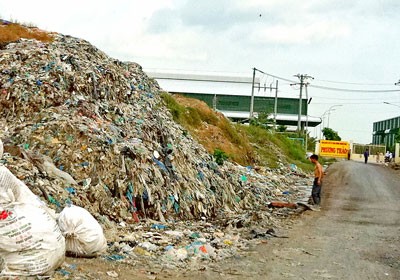 Garbage piled up at Hoa Phu dump site. (Photo: SGGP)
The plant was built by Phuong Thao Construction and Development Joint Stock Company and has capacity to treat 600 tons of waste in a day.
According to Lieu Cat Phuong Thao, CEO of the company, the company had asked the People's Committee of Vinh Long Province for permission to treat the 400,000 tons of garbage at the dump site and 100 tons that piles up daily, but have not received the green light so far. As a result the plant was unable to begin operations.
To be able to operate, the company even asked neighboring areas like Can Tho City, Cai Be District in Tien Giang Province, Sa Dec Town in Dong Thap Province, and Tra Vinh Province, for their garbage so that the plant could at least resume operations.
Nguyen Viet Thang, director of Vinh Long Public Utility Company, said they were waiting the decision of the committee and for the Department of Finance to determine payment rate to the company for treating garbage.
Currently, the Hoa Phu dump site is piling up with daily garbage which is causing serious environmental concerns. Residents living around the site are complaining of filthy waste water flowing out into their rice fields, leaving a foul smell and affecting daily activities. In addition, the wall of the dump site is far too fragile and about to collapse at any time.