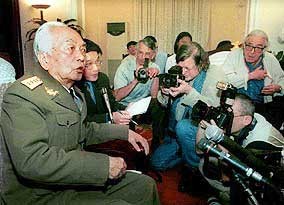 General Vo Nguyen Giap (L) answers foreign reporters' questions.
Quan Doi Nhan Dan (People's Army) publisher has published a collection of essays, compositions, presentations and other pieces of writing by General Vo Nguyen Giap, former top leader of the People's Army of Viet Nam.
All these pieces of writing were made by the general, who is over 90 now, during the Vietnamese people's resistances against the French and US invaders.
The 1,324-page book shows the general's love to President Ho, the Communist Party of Viet Nam, the country, the people and all military forces.