Germany wants to strengthen cooperation with Vietnam and will continue Official Development Aid (ODA) to Vietnam in the coming years, Germany's Foreign Secretary, Peter Ammon, said on Friday in a meeting with Vietnam's Deputy PM and Foreign Minister Pham Gia Khiem.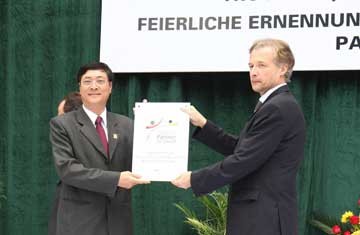 Germany's Foreign Secretary Peter Ammon grants certificate "School- Future Partner" to High School Viet -Duc (Vietnam_Germany School) in Ha Noi on Friday
Germany supports Vietnam and continues ODA to Vietnam, aiming to help the country achieve success in Doi Moi (Reform), fight poverty and closely cooperate with Vietnam in multilateral forums.
Deputy PM Khiem said that Vietnam appreciates the enhancement of cooperation with Germany in many fields, especially in trade, investment and education.
Mr. Ammon is visiting Vietnam to strengthen the relationship between the two countries.
On the visit, the two sides agreed to organize 'German Year in Vietnam' and 'Vietnam Year in Germany' in 2010 to mark the 35th anniversary of the establishment of diplomatic ties between the two countries.
In the coming years, Germany will support vocational training in Vietnam and establish a German school in HCM City.