The Vietnam Chamber of Commerce and Industry (VCCI) and the Central Committee of the Viet Nam Women's Union (VWUCC) yesterday presented "Golden Rose" Awards to 36 outstanding businesswomen of 2006.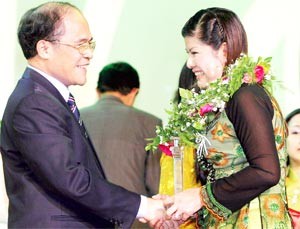 Deputy Prime Minister Nguyen Sinh Hung congratulates an outstanding businesswoman at the ceremony.
Speaking at the ceremony yesterday in Ha Noi, Vice State President Truong My Hoa affirmed that the State recognizes their contributions to the advancement of society and their role in improving the lives of women in many areas.
Ms. Tran Thi Thuy, President of the Vietnam Businesswomen's Council, said the award is a great honor for businesswomen, who often must act not only as company leaders but also wives and mothers. 
She said the criteria used to select honorees for the award are based on both individual and collective success stories. To receive the Golden Rose, candidates must strictly obey all State policies and actively take part in social works, adding that they must be not only dynamic and creative in the area business administration but also never stop improving their professional knowledge.
This is the second time the VCCI has cooperated with the VWUCC to present the award. Last year, 21 businesswomen received this prize.
Apart from the Golden Rose, the chamber also granted certificates of merit to more than 70 outstanding women. According to the chamber, women currently account for only 25% of the total number of business leaders in Viet Nam. Of that percentage, 30-40% are in the private sector.