The government agreed with Governor of the State Bank of Vietnam Nguyen Van Binh to implement a credit package worth trillions of VND to assist agriculture, rural areas and farmers at a cabinet meeting on 28 February.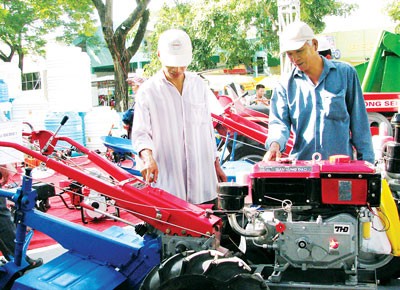 The credit package is expected to loan farmers to purchase machines for farming production (Photo: SGGP)
Credit for agriculture, rural area and farmers has grown an average of 20 percent per year in the last five years with the most growth beginning in 2010 with the preferential policy.
Credit growth of the economy was 12.51 percent in 2013. This rate was 19.67 percent for agriculture, rural areas and farmer, according to Credit Department under the State Bank. It is still short to meet capital demand for development in these fields despite high growth.
Most loans have been granted on smaller scales due to difficult attainability for farmers.
The credit package will focus on application of science and technology in agriculture production, new farming production modes, and seafood exports, said Governor Binh.
Implementation of the above credit package will not be easy, said Pham Tat Thang from the Vietnam Institute for Trade. Farmers will find it difficult to complete the extensive procedures to get bank loans. Detailed guidelines should be given.
The credit package will be implemented in a pilot program to large-scale and feasible production modes such as large scale paddy fields in the Mekong Delta and the milk farm of TH Group, said Governor Binh.
A closed lending process will be created to link farmers and businesses in a production chain including production, processing and export.
The pilot program will be launched in the first quarter this year, said Governor Binh.
The closed lending process linking production, processing, consumption and export will increase effectiveness and reduce costs of loans, said Trinh Ngoc Khanh, director general of Agribank.