Speeding up the implementation of solutions to prevent economic recession and keeping social security is the focus of Resolution No. 6, which was issued on February 8 by the government after its regular meeting held on February 3-4.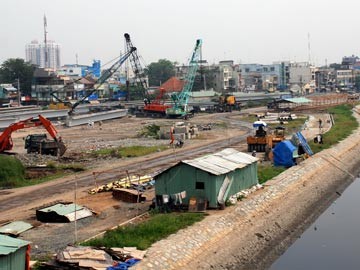 A work in progress, the East-West highway project. The Government called for the acceleration of projects, including infrastructure. (Photo: NLD)
Affected by the global financial turmoil, Vietnam's economy is on the decline, the meeting was told.
Industrial output in January dropped by 4.4 percent year-on-year and by 8.6 percent from December.
January's exports slowed as the world's market has shrunk and prices have dropped. Facing difficulties, many companies have cut production and their labor force.
Meanwhile, foreign direct investment (FDI) into the country also declined.
To recover economic growth, the government called on ministries and authorities, of all levels, to channel their efforts to overcome current challenges.
Ministers were asked to take radical measures to boost growth in industry, agriculture, services and exports. They should help maintain production, expand local and foreign markets, improve consumer spending, develop services, and increase tourism.
Official agencies must accelerate projects in basic construction, traffic and irrigation. They must tackle impediments facing key projects that use state aid, government bonds and state-owned business capital, so that projects can be completed and put into operation on schedule.
The Resolution also asks ministries and local authorities to generate jobs, maintain social security, give vocational training to farmers, the poor, and young people who are discharged from military service.
The Ministry of Labor, War Invalids and Social Affairs has been assigned to prepare plans to give support to the unemployed and submit them to the Prime Minster for consideration.
Poverty alleviation must also be speeded up in 61 poor districts across the country.
The Ministry of Planning and Investment is required to submit a report about the FDI situation to the Politburo, which will in turn give instructions on improving FDI in the country.
Priority should be given to projects that will help develop high-technologies, infrastructure and human resources. Priorities should also been seen in the fields of energy savings, environmental protection, agricultural and rural development, and securing the nation's defenses.
The government said that state-owned corporations and businesses operated steadily last year, improving socio-economic efficiency. They have seriously implemented the government's policies on keeping prices stable, controlling inflation and stabilizing macroeconomic conditions. However, the pace of equitization of state corporations remains slow.
To boost the strength of state-owned enterprises, the government asked the Ministry of Finance to submit a report to the Politburo on state-owned businesses and commercial banks. The report must include solutions to problems faced by state-owned corporations.