The Central Steering Board for Anti-corruption hosted a conference to compliment outstanding individuals in the fight against corruption on Tuesday, with the participation of Deputy Prime Minister Truong Vinh Trong and 88 delegates nationalwide.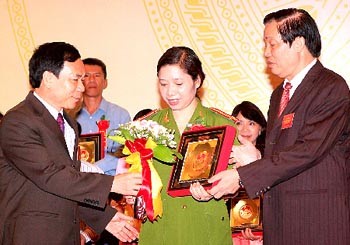 An outstanding individual in the fight against corruption is commended and awarded on September 7 (Photo: SGGP)
Of the 88 individuals, 46 bravely denounced corruption cases and the rest 42 uncovered and handled them.
On behalf of the Party and State, Mr. Trong recorded and highly appreciated achievements obtained in anti-corruption operations and the fighters' patience and valiance, who might face severe revenge.
He stressed that combating corruption is a goal that the Party, the State and the whole society have to determinedly pursue.
Relevant authorities and organizations should have measures to protect the corruption denouncers and their properties as well as commend and award them, he said.
Finally Mr. Trong tasked the board's office and the Ministry of Public Security to soon complete a mechanism, on protecting the denouncers, to submit the Government.