Working groups organised by the Vietnamese Embassy in Japan made a field trip to Sendai and Fukushima cities on March 15 to rescue Vietnamese citizens from the areas that were hard hit by the March 11 quake and tsunami.
Due to heavily damaged roads in the areas, the working groups' vehicle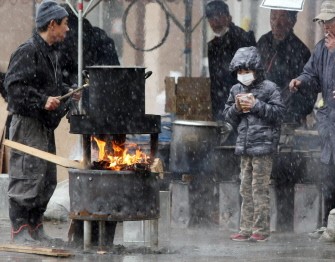 A boy (R) waits for boiled water to cook instant noodle outside a shelter in Sendai, in Miyagi prefecture on March 16, 2011.
s encountered a difficult approach route as they sought the scattered Vietnamese citizens.
The working groups are scheduled to visit Tohoku University Hospital in Sendai city and the Fukushima airport in Fukushima city and depart from there later on March 16.
During that time, the Vietnamese embassy is promptly conducting relief and protective work for Vietnamese citizens in Japan after the quake and tsunami.
According to the Vietnamese Embassy, organisations and individuals can contact the embassy via mobile phones: 0081 80-3001-3193 for the labour management desk and 0081 80-4006-0234 for the student management desk, or via mail: vnembassyjp@gmail.com.
Meanwhile, Vietnam's national flag carrier, Vietnam Airlines, has announced an offer of free-of-charge flight ticket refund and change for passengers to or from Japan on its flights from March 11 to May 10, the airline's spokesman Le Hoang Dung said on March 15.
The carrier will provide maximum assistance to Vietnamese families to buy tickets in Vietnam for their relatives studying, living and working in Japanese who want to return home soon.
Vietnam Airlines is operating 46 flights a week on eight direct routes from Hanoi, Ho Chi Minh City to four major Japanese cities: Tokyo, Osaka, Nagoya and Fukuoka. The airline is maintaining normal operations between the countries.
Vietnam Airlines recommended passengers update information on its website: www.vietnamairlines.com or via mass media or travel agents for further information.
Assistance mobile contacts: +84-4-38320320 in Hanoi, +84-8-38320320 in Ho Chi Minh City,  +84-5113832 320 in Da Nang. +81-335081481 in Tokyo , +81-647080900 in Osaka , +81-924730500 in Fukuoka , +81-525835171 in Nagoya.