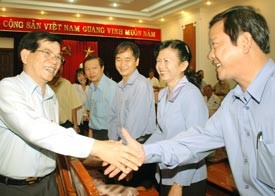 President Triet (L) shakes hands with participants at the meeting (Photo: SGGP)
Vietnamese President Nguyen Minh Triet spoke on the importance the government's personal dedication to its people at a cordial meeting in Ho Chi Minh City on Monday.
Government officials must assess their efficiency based on the public's satisfaction, President Triet said at the meeting with the HCM City Party Committee's mobilization panel, the Fatherland Front Committee and other organizations in attendance.
Mr. Triet, who lived and worked in Ho Chi Minh City for six years until early this July when he became President, said the most important thing for civil servants is to give their heart to the people, and that talent is secondary to personal commitment. 
The president also emphasized the importance of different groups of people working together.
As a long-time member of broad-based efforts for common purposes, Mr. Triet has brought valuable lessons to his post derived from his experiences strengthening solidarity between different groups of people.